---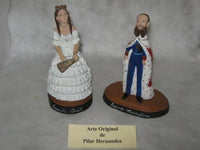 This sculpture of Maximillian, Emperor of Mexico during the French occupation was done by Pilar Hernandez in 2004. We found several boxes of her work in a back stock room in our Gallery. We have been unable to obtain any of her work since 2005. These pieces are very collectible. The photo show Maximillian with his wife, Carlotta. The price quoted is for him only.  
They are small sculptures with history and meaning inversely proportional to their size; works of art that, showing off their charming beauty and capturing the attention of those who are fortunate enough to contemplate them, have toured Mexico. They are the work with clay, molded by the hands of more than five generations of Mexican culture.

It is the story of the Panduro dynasty: Pantaleón, Maura, Margarito Núñez (father), Margarito (son) and Pilar, Pantaleón's great-great-granddaughter who today carries in her hands the responsibility of perpetuating the profession that her ancestors have been in charge of exalting in the last two centuries. The five are members and main protagonists of this magical narrative, also the fruit of clay.
From the legendary Mexican comedian and actor 'Tin Tan' to the former mayor of New York, Rudolph W. Giulani, they have visited the small artisan factory where Don Margarito and Pilar capture and immortalize the great protagonists of Mexican history.